Explore the "Real Grenada" with Mandoo
Grenada Rainforest Hikes
When visiting the Isle of Spice, you should make every effort to visit our wonderful Waterfalls & Rain Forest especially if you are interested in hiking and trekking. Most of our waterfalls are easily accessible, with a short hike taking you to the foot of the falls. There are several to choose from, and all are easily reachable if you are willing to take a short hike to where they are located. Depending upon your fitness level, you can choose between a gentle stroll through a well tended garden to get to Annandale Falls, of, if you are feeling very energetic, a 40 minute hike through the rainforest to get to the Seven Sisters.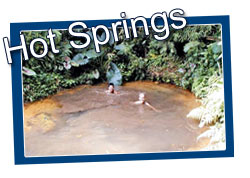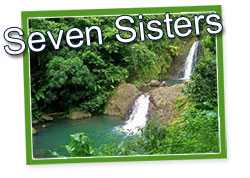 Grenada Seven Sisters Falls or Hot Springs
(These are two separate hikes!)
An outstanding full-day tour that ventures into the heart of the country. Exceptional and challenging , trails draped seven sisters and hot springsn the natural beauty of Grenada's highlands.
The thundering water of Seven Sisters Falls provides an exciting highlight of this tour, but the unusual features of the landscape are not to be dismissed too quickly. One of these is the boiling springs. Located at the foot of the highest peak in the island, they provide a poignant reminder of the origins of the island. -
GREAT FOR HIKING WHILE IN GRENADA!
.
To Concord Falls :

If you like hiking, then this is a treat. The Concord Waterfalls is not one, but three waterfalls. Passing through lush and fragrant vegetation, this full-day tour follows a deep-forest trail. (There is nothing like a taking a bracing dip in a cool mountain stream, so we do suggest that you walk with the necessary clothing.)


To Mt. Qua Qua :

This half-day adventure will give you the opportunity to view sweeping vistas, unique and dense flora, and a chance to glimpse the native wildlife community found only in a tropical rain forest.

These are just a few choices. If you should have a special request, I will be pleased to arrange it for you!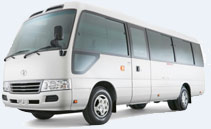 Air Conditioning Reclining Seats Stereo System Large Windows Local Guide
Locally Owned and Operated Risk Free Reservations Friendly Knowledgeable Guides Low Price Guarantee Small Group Tours

Mandoo's Tour & Taxi Service | Tel: (473) 440 1428 | Mobile: (473) 407 0024 | Chanels 16 + 74 VHF | mandoo@grenadatours.com